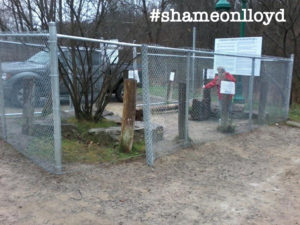 Will the next Ancaster, Dundas, Hamilton West Councillor do right by the Ancaster Well? – Save Our Spring asks you! – If you were elected Councillor would you make this situation, right?
If you run for Council of Ancaster Dundas Hamilton West – be prepared to address this topic.
The Ancaster Well is a Legacy of Farmer William Kennedy – who donated the land and deeded access to the Public Access, because he knew the wells were dug with Publicly funded money, and paid for with Community grants.  Ancaster Wells served the town of Ancaster as the community's main water source, prior to Amalgamation.
Mr Kennedy passed away in 2014.  The Family farm has been up for sale.  He is not here to defend his legacy.  So we have to step up and do that for him.
When the Hamilton Conservation Authority purchased the Ancaster Well for $55,000 – and then obtained 60,000 in grants, assuring continued public access to the Ancaster Well.
Natural Escarpment Project Grant – 20,000
Natural Areas Protection Grant – 40,000
Despite these Grant Applications the Hamilton Conservation Authority were actively planning the development of this resource with Phase 3 – selling commercial water
Hamilton Conservation Site Development Plans showing Phase 3 – Commercialization
And indeed they embarked on a long study in 2002 it was decided, at that time bottling water would not be profitable…. That was 16 years ago…….
Could it be that after the land transfer in 1998, the Hamilton Conservation Authority could not further develop the land because of the Restrictive Covenants on the land document, which was protected by the still living Farmer William Kennedy.
Could it be that perhaps the Hamilton Conservation Authority and specifically Scott Peck, who knew that there were challenges with developing a Environmentally Sensitive Area.   Hoped that with the help of a vote from Councillor Ferguson hoped the community might forget that the HCA has a legal obligation to continue to provide public access to the Ancaster Well.
If you were Councillor and sitting on the board of a Corporation that is the Hamilton Conservation Authority and you pledged to consult the community and were charged with representing the people who elected you, and given that you have all of this information available to you.
Would you choose to Fence the Ancaster Well, or would you keep the Ancaster Well in the hand of your community?
Which Municipal Candidate will step up to protect the Ancaster Well?
Ancaster Well Legal Fund
PLEASE DONATE
Why do we need a legal fund?
The Hamilton Conservation has essentially just privatized a previously free source of drinking water.
If that alone doesn't concern then the details around the decision to put a fence around the Ancaster Well should.
There is no health order to close the well, this is a voluntary action to abide by a standard that doesn't have to apply.
The HCA could rename the well as an Artisan water source put up a sign and walk away.
The HCA has voted to (less one Councillor Aiden Johnson who voted against)  on motion of Ancaster Councillor Lloyd Ferguson fence the well and stop testing.
That is not what the Ancaster community was hoping for.
This is a big deal and needs further investigation, please donate and support our efforts to allow free access for water at the Ancaster.
SAVE OUR SPRING!
AN IMPORTANT MESSAGE FROM THE PAWS RATEPAYER ASSOCIATION.
To Sign or not to sign, that is the question !!?
To Sign or not to sign, that is the question !!?
THINK before you sign, because what you are signing recognizes your and ALL Ratepayers loss of ownership and free access. Please read to the end.
Behind SOS is a core group of concerned citizens / water warriors.
We're not in agreement with the changes being implemented, and we have created a Ratepayers group to pursue and exercise our legal rights so as to advance our initiative and to quash this unfounded change to public access.
We've uncovered several details:
that there is NO " Order to comply" as we have been told there is.
There is NO Directive, from the medical officer of health, for this locked fence, pay-to-play swipe card, and waiver that's scheduled Jan 1, 2018.
 As per Lisa Burnside: "……HCA has not received any type of order or directive from Public Health Services so I do not have that information to provide.  I have attached the HCA Board motion as it shows the whys and wherefores for the change.  It is the details of the change in operations that was reviewed with Public Health Services." Lisa Burnside, CAO of HCA, Nov. 20th 2017.
Therefore what legal authority does HCA have for breaking the covenant with the public and installing physical barriers to the Ratepayers of this community?
Other compelling details we've uncovered:
Surprisingly, almost 2 yrs. after initial contact with Public Health, Our group discovered that the Health Unit only became aware of the details of the land deed covenant requirements of the owner (HCA).  As per Eric Matthews (PHS) Oct. 12th 2017, who informed us that PHS only learned of the specifics late summer 2017.
First Nations, as of Monday Dec 4th, had not been notified of changes in the protocol, by HCA. It was through this Ratepayers Group that the MNCFN became aware of this.
All options have not been considered. i.e. simple notice stating 'water is no longer potable' as offered to other Hamilton Sites that had to adhere to this changed regulation.
Lastly, Cllr Ferguson, is on record, stating that he will rescind the salr Ferguson, is on record, stating that he will rescind the 17.s loss of ownership by the ratepayers by giving total at had Arle[ownership] condition as per Ancaster News Article dated Oct. 5 2017. "Ferguson said the sale condition should still probably be rescinded"
Therefore, we ask you to join us, please engage with the Ratepayers Association and please consider donating to our legal fund: http://bit.ly/2wXFVzI , for we are moving forward on this indiscretion on the part of HCA and our city representatives and employees.
We need your strengths, expertise and donations to further this cause.
PAWS Ratepayers Association Inc. [ Protect Ancaster WellS]